What Is Non Standard Auto Insurance?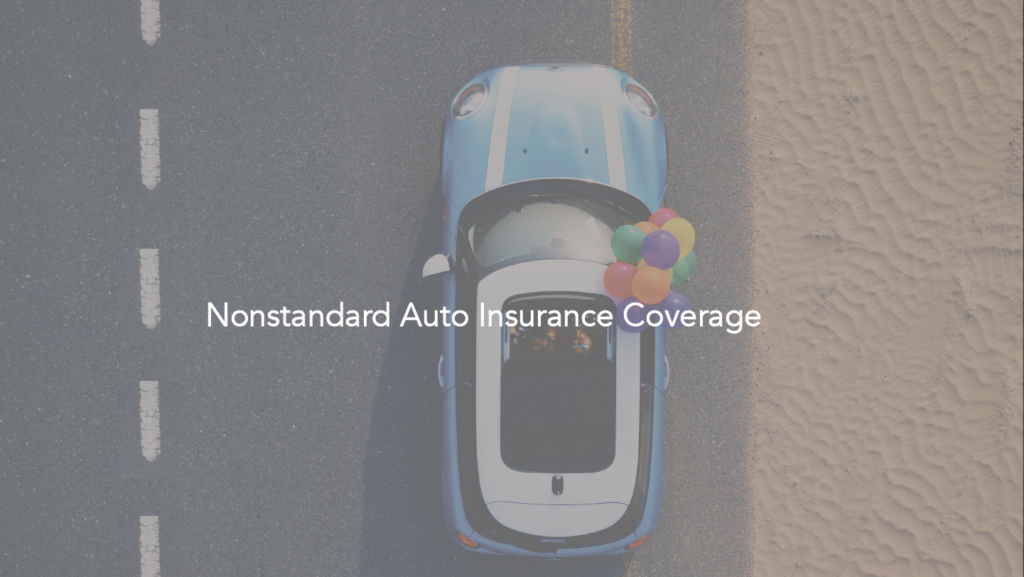 There is nothing like the feeling of being acknowledged for your uniqueness, knowing you're valuable and different. Except when that means you are being charged exorbitant car insurance rates or told you shouldn't be on the road. That's a bit of a downer.
Nonstandard Auto Insurance is a common term used in the industry to denote drivers who have essentially been flagged by insurers for a flawed driving history. Risk factors that make it challenging to get covered or prevent insurers from issuing auto insurance altogether can be incredibly discouraging and time consuming. Not to mention, being told you cannot drive is very inconvenient when you're trying to go about your life's work, and are then blocked getting from A to B!
You can get landlocked very easily if you don't know the right way to navigate the Florida car insurance game. Certain insurance companies only work in the non-standard category, tailoring coverage to drivers facing these difficult scenarios. Other carriers will have nothing to do with non-standard insurance customers, and other companies file rates that are tiered into non-standard, standard and preferred.
Drivers with DUI, DWI, SR-22, and multiple accidents on their records will likely find themselves in the nonstandard auto insurance category.
Contact the experts on nonstandard coverage at FLINSCO.com today!
Common Reasons for Nonstandard Driver Categorization
SR-22
While it might sound like a band name or winning block in the Battleship board game, the issuance of the legal document known as an SR-22 brings droves of troubled and confounded Florida drivers to our door here at FLINSCO.com. It's so easy to get pulled over and penalized for a variety of reasons in this vacation State. Whether you were fixing your makeup, playing steering wheel bongos, or swerving your way back from Salt N' Pepa's reunion at Hard Rock, it's still a violation of that license you were graciously issued.
SR-22 (or SR22) is required by the State often due to convictions such as a DUI (driving under the influence), DWI (driving while intoxicated), or reckless driving. Most insurers will file the SR-22 form with the State for you to prove that you have insurance. You will also have to pay $35 or so as a filing fee in addition to the insurance premium.
With so many reasons to be reckless in Florida, SR-22s are a common sight, and it is always necessary to find the proper coverage to accommodate those pesky forms. Our staff knows the SR-22 like an old friend, and therefore, you will be in excellent care when you work with a FLINSCO.com licensed agent or customer service professional to set up your policy.
Non-Owner Car Insurance
Non-owner auto insurance is required to insure yourself if you do not own a car and still want to drive legally. You might want to get hired with a ride-sharing service, help your neighbor move across town, or cruise around the beach in a rental, but not actually have your own wheels. In these instances, non-owner coverage is your best bet, and it's also going to qualify you as a candidate for nonstandard car insurance.
Salvage Title
Rebuilt titles are a huge red flag when shopping for used cars, and consequently, not the brightest idea to purchase a car with a salvage title. Legally, you cannot remove a "rebuilt" brand from your automobile's title. Financing a car with a rebuilt or salvage title is terribly difficult, and any bank willing to loan money for this type of vehicle will require full-coverage insurance.
Securing your coverage will be an obstacle, as few companies are willing to write collision and comprehensive insurance on a car without a clear value. Liability insurance will be easier to purchase, thankfully, if you must buy that vintage VW Westfalia van from the curb, and its Deadhead owner has rebuilt the title as craftily as their DIY bird feeder-slash-composting toilet.
Owning a ride with a salvage title can push you into a tight spot with insurance companies. You will not necessarily be charged more for coverage, yet you might be turned down for comprehensive coverage.
High-Risk Driver
Insurance companies may tag you as a high-risk driver if you have multiple moving violations, crashes, or claims, or any combination of these.
Young Driver
Car insurance for young drivers can also be in the nonstandard category, as policies written for younger folks in Florida are often costly. Whether it is due to being inexperienced, easily distracted, inclined to listen to top 40 music, hyperactive, excited, bored, under the influence… you name it, this is a very high-risk group for various reasons. Many teens are apt to begin their auto insurance journey by joining a parent's policy first.
Florida Driving Laws & Traffic Violations
Here you can find a snippet of Florida traffic laws and violations commonly penalized. Think of it as a menu of items to avoid while operating a car in Florida.
Drinking & Driving Violations
Driving under the influence; penalties (FS 316.193)
Driving Without a License / With a Suspended License
Drivers must be licensed; penalties (FS 322.03)
Driving Without Insurance / With Insufficient Insurance
Financial Responsibility (FS Chapter 324)
Driving Without Registration / With Expired Registration
Expiration of registration; renewal required; penalties (FS 320.07)
Illegal U-Turn
Limitations on turning around (FS 316.1515)
Leaving the Scene of an Accident / Hit & Run
Crash involving death or personal injuries (FS 316.027)
Crashes involving damage to vehicle or property (FS 316.061)
Mechanical Violations
State Uniform Traffic Control: Equipment (FS Ch. 316 scroll to 316.217 to 316.455)
Reckless Driving
Reckless driving (FS 316.192)
Running a Red Light / Stop Sign
Traffic control signal devices (FS 316.075)
Seat Belt / Child Restraint Violations
Safety belt usage (FS 316.614)
Child restraint requirements (FS 316.613)
Speeding
Unlawful speed (FS 316.183)
Unlawful Vehicle Modifications
State Uniform Traffic Control: Equipment (FS Ch. 316 scroll to 316.217 to 316.455)
List of Florida Driving Violations (PDF)