About Us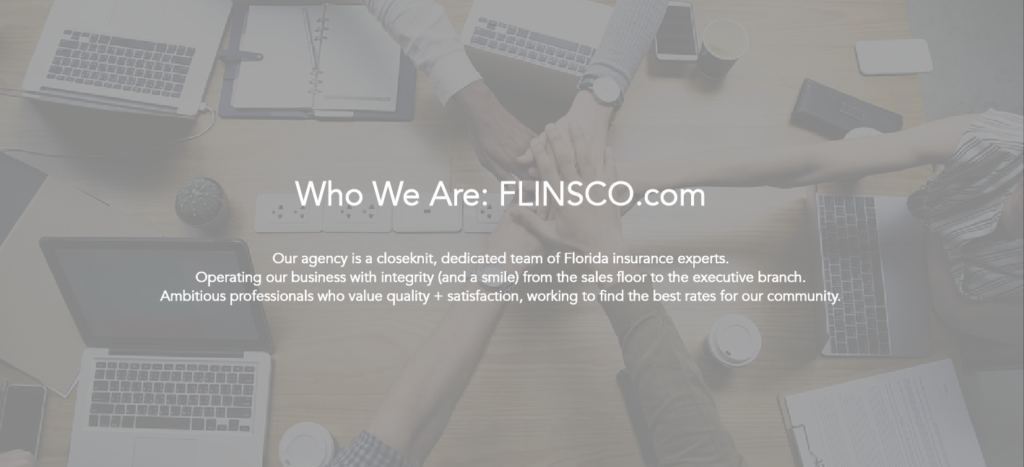 Our Company History
From Florida First to FLINSCO.com
FLINSCO.com (Florida Insurance Company) was part of a chain of agencies dating back to around 2001, originally named Florida First Insurance Agency. The name dates back 17 years in fact, and was owned by a gentleman who has since left the industry.
Once the agencies fractured, each agency was taken over by its respective manager either through acquisition or just taking over the business. At this point there are 4-5 agencies left still bearing the name Florida First Insurance, but our location in Hollywood is the original and first location.
Rhonda Sankersingh took over the agency after the chain was disbanded. In 2013, Rhonda sold her business to Jeremy Ehrenthal and together decided to stay in business. Forming the basis of a partnership that has flourished over the last 5 years, the agency has quadrupled in size and hired an additional 15 employees.
Rhonda is one of the few agents in Florida that can sell all lines of insurance. She specializes in commercial insurance, including all types of small businesses from nursing homes to condo associations statewide.
FLINSCO.com brought on a marketing campaign for auto insurance statewide in Florida and has helped grow the personal lines side of the business through acquisition and an auto insurance call center employing 15 licensed agents taking inbound calls and specializing in helping people get insurance that have struggled to maintain coverage.
FLINSCO.com caters to the working man and woman in Florida and has been a leader in this market by getting contracts with every insurance carrier in the state that takes drivers with complicated histories from tickets, DUI's, to payment issues and of course, poor driving records.
The difference FLINSCO.com has over its competitors is that we use a rater and plug in every carrier in Florida that is available and not only have we found carriers that most insurance agencies do not offer but most of all, our agents are encouraged to sell the cheapest plan with the most coverage as they do not receive a percentage of the premium.
They are paid a flat rate to write each policy so all they care about is getting you the best plan. Because Florida Insurance Company also acquires agencies (we have acquired 4 so far) we have met many other agency owners and all of them have focused on marketing the carrier(s) that pay the best commission instead of working for the consumer.
---
How We've Grown
Agency Acquisitions
FLINSCO.com has purchased multiple agencies, including the acquisition of Florida First in 2013. The agencies include City Insurance of Plantation, Galpern Insurance of Coral Springs, Jerry Schelten's Agency and Reed Wade Insurance of Daytona, and Assurance Insurance of Fort Lauderdale. All of the agencies were merged into the Hollywood location upon closing. We currently have several other agencies with offers and we are always looking for other opportunities to buy agencies in Florida.
We also work on finding new carriers to offer all the time as different companies fit every driving record and credit history. We currently are securing agency contracts with 2 new Florida auto insurance companies so that we can corner the market in Florida for all drivers. We can't always beat your price, but the more carriers we get, the better the chance we have.
Our home and commercial departments are always expanding as well.
---
Contact Us:
Toll Free:  888.307.1907
Local: 954.519.3443
Email: info@flinsco.com
---