Fraud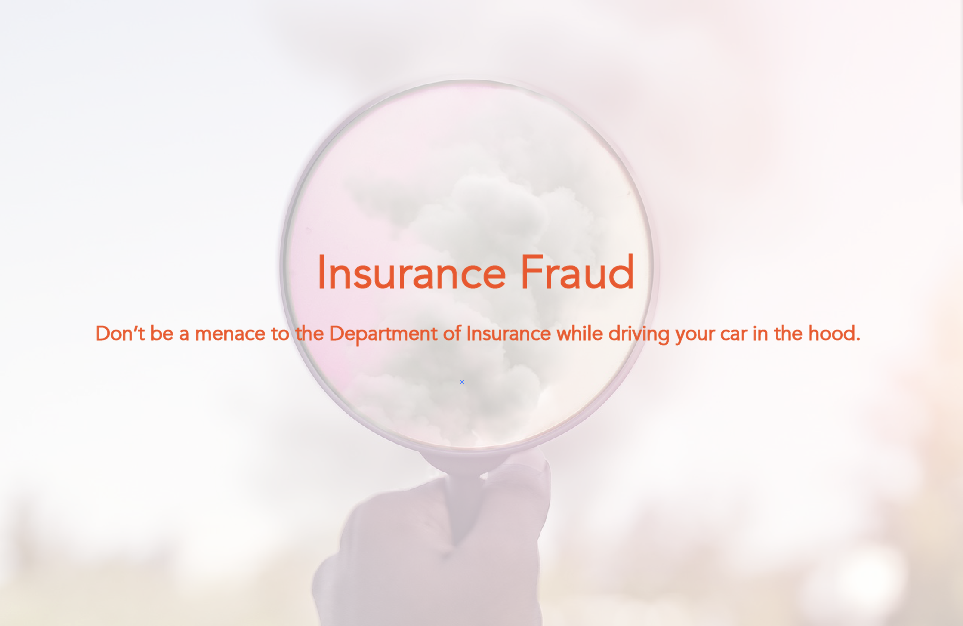 What is Insurance Fraud?
Relax. Don't do it.
Insurance fraud is essentially any means of stealing money from an insurance company, get benefits to which you are not entitled, or denying a benefit to which you are entitled. It is typically referred to by police and prosecutors as a scheme to obtain improper payment from an insurer. This issue occurs when an insurance company, agent, adjuster or policyholder takes action overtly for illegitimate gain.
Fraud imposes costs on insurance companies and threatens their integrity, competitiveness, and future viability. The ripple effect also impacts consumers, the economy and society at large. Premium rate increases are largely due to the instance of fraud, and therefore takes a bite out of everyone's budget.
Insurance fraud is estimated at over $100 billion annually according to the Cornell Legal Institute. The Coalition Against Insurance Fraud projects approximately $80 billion in insurance fraud annually. Either way, this money has to come from somewhere, and it is unfortunately passed on to the general public and entire U.S. economy. You pay the price when someone else commits fraud.
Don't get too heated (or do) and learn how to avoid it yourself – never be so silly as to think you could get away with bending the truth in the insurance world.
The following numbers were reported for fiscal year 2014-2015:
17,392 Suspected incidents reported to the Division of Insurance Fraud
Over $37 Million in Restitution Requested
Over $51 Million in Court Ordered Restitution
1,590 Cases Presented for Prosecution
1,318 Fraud-related Arrests
1,195 Fraud-related Convictions
---
Hard & Soft Fraud
Hard fraud and soft fraud describe the nature of the scheme, the latter being most common.
Hard fraud refers to someone purposely damaging property in order to file a claim and attempt to receive reimbursement. Say you ran your car into a ditch just for the sake of monetary gain from your carrier. That would be Hard Fraud.
Soft fraud is more often exercised, in which a policyholder bends the truth when filing a claim, or applying for coverage. More often, fraudsters are exaggerating an otherwise legitimate claim, or lying on an insurance policy application about certain conditions or circumstances to reduce the cost of the policy premium.
Another form of fraud occurs when the insurance policy amounts to a larger value than the value of the insured property. The policyholder has the incentive to commit insurance fraud by destroying property and making it look accidental so they can cash in. In 2006, insurers lost $766 million from this style of scam, according to reports cited by the Cornell Legal Information Institute.
---
Common Schemes
Premium Diversion

The most common form of insurance fraud is premium diversion, or the embezzlement of insurance premiums. In most instances, this fraud occurs when an insurance agent neglects to send premiums to the underwriter and keeps the funds for themselves. Another premium diversion tactic involves selling insurance without a license, collecting premiums and not reimbursing for claims.
Fee Churning

Fee churning is performed by a series of intermediaries taking commissions through reinsurance agreements. The first premium payment is lowered by repeated commissions until there is not longer money to pay claims. The company responsible for paying the claims is typically a business that the conspirators have set up for failure. When viewed alone, each transaction appears to be legitimate, yet only after the overall impact plays out and reveals itself as fraud.
Asset Diversion

Insurance company assets being stolen, or asset diversion, takes place almost exclusively in the context of an acquisition or merger of an existing insurance company. Asset diversion usually entails taking over an insurance company with borrowed money. Following the sale of the company, the subject uses the assets to pay off the debt. The remaining assets can then be diverted to the subject. Who thinks of this?
Worker's Compensation Fraud
Worker's compensation fraud involves an entity saying they will offer worker's compensation insurance for a lower cost, then misappropriating premium dollars without ever insuring the person. Again, why?
---
Report Insurance Fraud
Insurance fraud reports are of utmost importance and someone needs to inform the State. There is also reward involved for chiming in when fraud is suspected.
The State of Florida rewards residents who clue the Department of Financial Services in to fraudulent activity that leads to arrests and convictions. You may report anonymously or by name. Ask about the anti-fraud reward program (but don't expect any gas points or coupons from DFS, they keep it real).
You may also report instances of suspected fraud directly to your insurer.
National Insurance Crime Bureau (NICB)
Phone: 800.835.6422 (800–TEL-NICB)
Florida Department of Financial Services – Fraud Division
Phone: 800.378.0445
Coalition Against Insurance Fraud (CAIF)
Phone: 800.447.8477
---
Resources
NAIC: Report Insurance Fraud Online
CIPR Insurance Fraud Guide (PDF)
References:
https://www.law.cornell.edu/wex/insurance_fraud
https://www.naic.org/documents/consumer_alert_beware_insurance_fraud.htm
https://gorenaissance.com/faq/
https://www.naic.org/cipr_topics/topic_insurance_fraud.htm