Tower Hill Insurance Group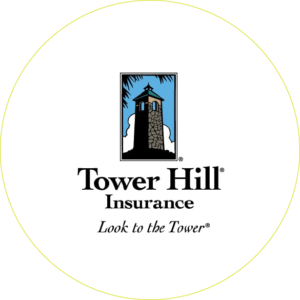 Tower Hill Insurance Group
FLINSCO.com is your resource for Florida Homeowners Quotes. Sales. Service.
Local: 954.703.5146 • Toll Free: 800.218.0250
Email: home@flinsco.com
Company History & Overview
Tower Hill Insurance Group opened in 1972 as a small insurance agency in Miami, Florida, then called Mobile Home Insurance Associates. Founded by W.T. Shively, the company is still owned by his family, and is now one of Florida's largest residential property insurance companies.
Tower Hill insures over 1.7 million clients and expanded into a group of companies, currently employing 400 full-time workers. More than 850 insurance agencies across the State of Florida represent their brand.
In 1980, Tower Hill's corporate offices relocated to Gainesville, Florida, and in 1987, they partnered with Omega Insurance Company. When Hurricane Andrew devastated Florida, especially the Miami area, in 1992, homeowners insurance was never more important. The company was there to help with thousands of claims.
The company changed its name in 1995 to Tower Hill Insurance Group, Inc. and the following year, moved the corporate headquarters to its current location.
The early 2000's brought numerous changes. By 2004, an additional office location opened in Lexington, Kentucky, DeSoto Prime Insurance Company (Tower Hill Prime) was acquired, and Tower Hill Select Insurance Company was formed. Florida residents were supported by Tower Hill in 2004 when a serious hurricane season befell various parts of the State. Hurricanes Charley, Frances, Jeanne, and Ivan each led to damage and evacuation. The following year offered no reprieve. 2005 saw devastation to property and homes throughout Florida with Hurricanes Dennis, Katrina, Rita and Wilma.
In 2009, Tower Hill partnered with Royal Palm Insurance Company and was purchased by Tower Hill Signature two years later. Tower Hill Preferred merged with Hillcrest Insurance in 2010. Surviving the would-be apocalypse in 2012, Tower Hill celebrated four decades of business that year.
Currently, Tower Hill is proud to operate in various states offering personal and commercial lines, high value homes coverage, and Tower Hill Specialty products. The company has a presence in our home state of Florida, as well as Texas, Georgia, South Carolina, Alabama, Ohio, Illinois, Wisconsin, Indiana, and Missouri.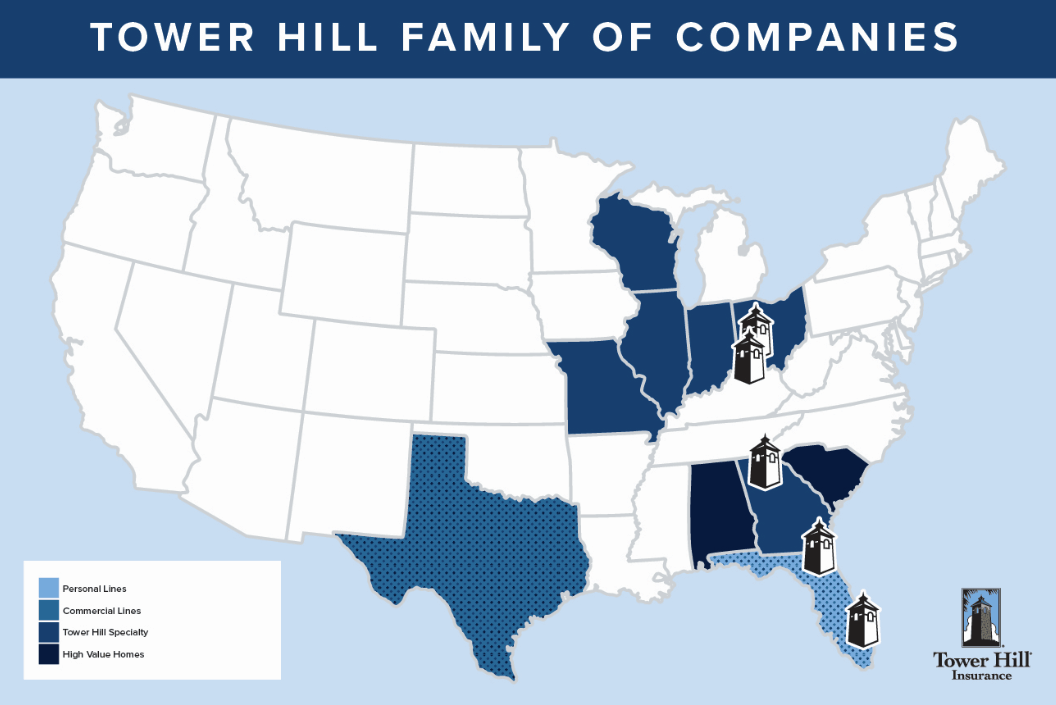 Tower Hill Personal Insurance Products
Homeowners
Regardless of the size, style, or neighborhood, your home is your sanctuary and one of your most significant investments. Tower Hill has your home covered in all areas, from dwelling to fire. All plans include insurance for your property and its content, as well as liability coverage – which is actually not the norm for a majority of homeowners policies.
Coverage A is required dwelling insurance and you may also want some extras, depending on your needs. Ask your FLINSCO.com Home Insurance Agent about the Tower Hill Emerald Endorsement, which offers a package of enhancements.
Condominium
Protect your belongings in the event of a fire or burglary. Policies include liability coverage for mishaps that take place inside your condo. If you own a condo, you should insure the contents of your home such as clothing, collectibles and furniture, in addition to appliances, cabinetry, and plumbing.
Condo associations may be responsible for the unit's floor, ceiling and bare walls. It is important to know clearly where their responsibility ends and yours begins. Additional coverage is available for your condo's building items to insure a greater array of events or lifestyle, such as Golf Cart Coverage.
Landlord
Landlord, or dwelling fire policies are ideal for single-family homes or duplexes that are considered rentals, and not occupied by the owner.
Renters
You may be the underdog in the contract, but your belongings are still yours and deserve to be covered in any event. Whether natural disasters or theft cause damage to your goods, renters insurance is a necessary policy to have.
Flood
Florida flood insurance is critical to protecting your home, property, and items in the event of water damage from hurricanes, tropical storms, or just a regular day in the rainy season. As climate change continues to make Florida a ticking time bomb for natural disasters, it is pertinent to protect your home from rising oceans and other sources of flooding.
Mobile Home
Going back to Tower Hill's roots as a mobile home insurer, you can trust that 40 plus years of experience covering your manufactured piece of paradise will go a long way. Coverage will protect your belongings, property, and include liability.
---
Important Tower Hill Customer Information
Tower Hill Insurance Online Customer Portal
Register Your Tower Hill Online Account
Contact Tower Hill Customer Service
Toll Free Phone: 800.342.3407
Local Phone: 352.332.8800
Fax: 352.332.9999
Mailing Address:
PO Box 147018
Gainesville, FL 32614-7018
Pay Your Tower Hill Premium
Pay Your Tower Hill Bill Online
Pay by Phone: 800.342.3407
Email Claims Service: