Georgia Auto Basics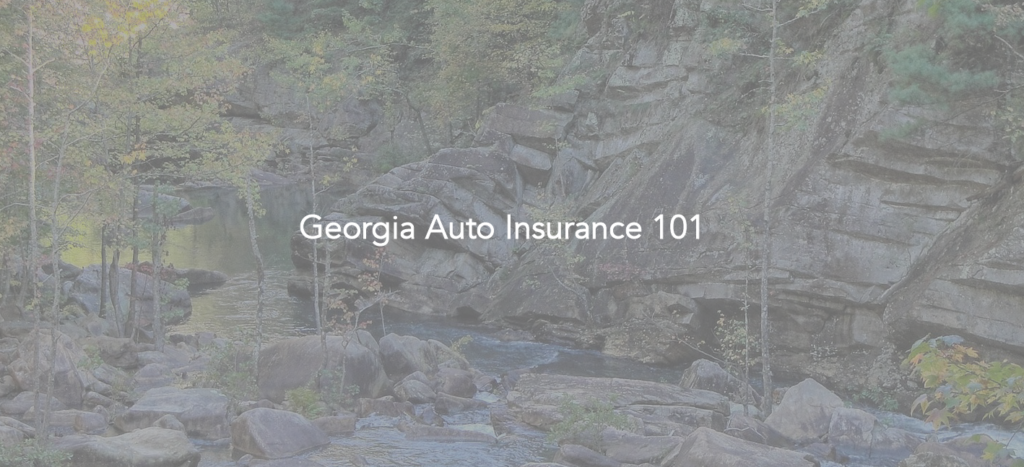 FLINSCO.com is not just a Florida insurance agency. We also sell the top car insurance companies in the State of Georgia.
We specialize in nonstandard auto insurance, in other words, for drivers with SR-22 and FR-44 certificates, DUIs, and multiple traffic offenses.
However, we are happy to meet the needs of good drivers as well!
---
Georgia Auto Insurance Market Overview
Much like it's friendly peninsular neighbor, who is about to go underwater any day now (that's us here in Florida, by the way), Georgia offers major national carriers. Companies that you can find in various parts of the state include Geico, Progressive, Safeco, Travelers, AssuranceAmerica, and Mercury, among others.
Georgia law includes some interesting requirements that are not necessarily the norm if you're coming from out of state. The State requires you to carry Liability Insurance to cover injuries or damages caused by your vehicle in a crash. That is fairly normal for most states, actually.
In order to register your vehicle in Georgia, proof of liability coverage is a must.
---
Minimum Coverage Requirements
$25,000 per person
$50,000 for multiple people
$25,000 per incident
Of course, you are welcome to supplement your coverage with other policies according to your needs. Optional plans are available in Georgia, to protect against issues, accidents, and potential crises that liability does not cover. Let us know what you need when we help you apply. We want you to feel safe and sound driving in this state notorious for speed traps and pull-overs.
Georgia law may not require you to carry the below policies. If you have a loan, or lease or finance your car, the bank is likely to require that comprehensive and collision are added to your insurance plan at least. They may require more coverage is added, depending on your arrangement.
Rental & Towing
---
Georgia Auto Insurance Prices
Auto Insurance Rates in Georgia are determined by a number of factors. They vary from one driver to the next. Insurance companies will review the following details to determine your rates when underwriting your auto insurance plan in Georgia.
The absolute best way to improve your record, avoid rate ups, and maintain affordable car insurance rates is to drive safely and obey traffic laws.
Rates vary from one insurer to another. Get a free, no obligation quote online to compare plans and costs from the companies offered in your zip code.
Rating Factors
Driving Record
Insurance Claim History
Credit History
Vehicle Make and Model
Age
Gender
Marital Status
---
Average Yearly Costs of Coverage in Georgia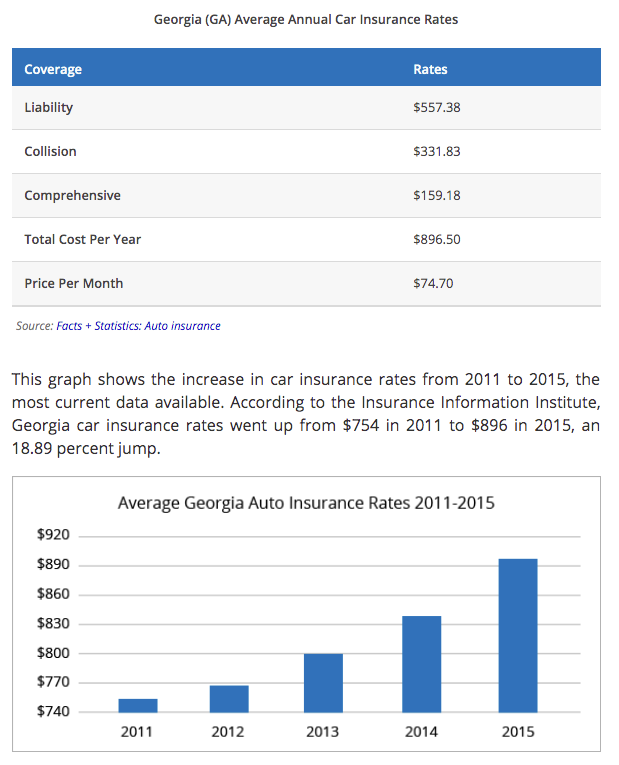 ---
Georgia Auto Insurance Violations, Penalties and Fees
Notice of Policy Termination
As mentioned above, your insurance company will have to notify the DOR to update the GEICS when your policy is terminated for nonpayment of premium.
Proof of Coverage
In Georgia, simply furnishing a police officer with a copy of your insurance ID card won't cut it. When asked to show proof of coverage, whether due to a traffic stop or a moving violation, electronic verification through the Georgia Electronic Insurance Compliance System (GEICS) is also required.
So, for providing proof of liability insurance coverage in Georgia, have your ID card ready and expect a GEICS verification scan. This is part of the process for all things vehicle related in Georgia.
When you are questioned by law enforcement, applying to register your car, transferring or replacing your tags, or switching auto insurance plans, your information must be processed through the GEICS Insurance Database.
When insurers issue or renew coverage, your Vehicle Identification Number (VIN) and policy effective date are submitted to the GEICS, the Department of Revenue's (DOR) Insurance Database within 30 days of the policy's start date.
Insurance companies must also report changes in coverage to the Department. These include cancellations, and added or removed drivers, covered household members, and vehicles on existing policies.
It is the insurance company's responsibility to report your auto policy's status to the Department and GEICS database. Check your card to be certain that all of your information is accurate.
Any auto insurance detail gone amiss can result in major snafus with verification of your coverage. If you should find any incorrect information on your card, contact your carrier to fix it immediately.
You may also call your FLINSCO.com auto insurance agent to help.
Driving Without Insurance
Thanks to the e-verification system established in Georgia, if you drive without insurance, the authorities will know right away. Information is reported to the Department of Driver Services (DDS) via your insurer, sent to the GEICS and the Georgia Registration and Title Information System (GRATIS).
If your coverage is canceled and you do not buy a new plan to replace it, the DDS will send a notice. This letter will instruct you on how to comply with the state laws, and let you know what penalties to expect if you do not follow up.
Penalties you might face include suspension of your drivers license and fines, as we explain below. Additionally, you will not be able to register your vehicle or renew your registration in Georgia if GEICS shows that you do not have an active policy.
Drivers License Suspensions
If your car insurance is not active, and you are caught driving without current coverage, trouble is on the horizon. To be more specific, you may face having your drivers license suspended.
In order to get your license and coverage back in good order after the first offense, follow the steps below for the most suitable solution. You may also call the Department of Driver Services (DDS) to determine the best course of action for your license reinstatement.
Reinstatement After 1st Offense
Wait until your license has been suspended for at least 60 days.
Buy at least the minimum required coverage in Georgia.
Pay a reinstatement charge of:
Lost your license again? Here's how to get it back after your second offense of driving without necessary coverage:
Reinstatement After 2nd Offense
Wait until your license has been suspended for at least 90 days.
Buy at least the minimum required coverage in Georgia. Have your insurance company file a Georgia Safety Responsibility Insurance Certificate (SR-22A).
Pay a reinstatement charge of:
If you lose your license due to not carrying active insurance, you cannot pay the fees to reinstate coverage to the DDS online. The state discontinued that option in September 2013 for said offenders. You must pay postage or hoof it to a local office. No e-billing convenience for you if you dare to drive without insurance in Georgia!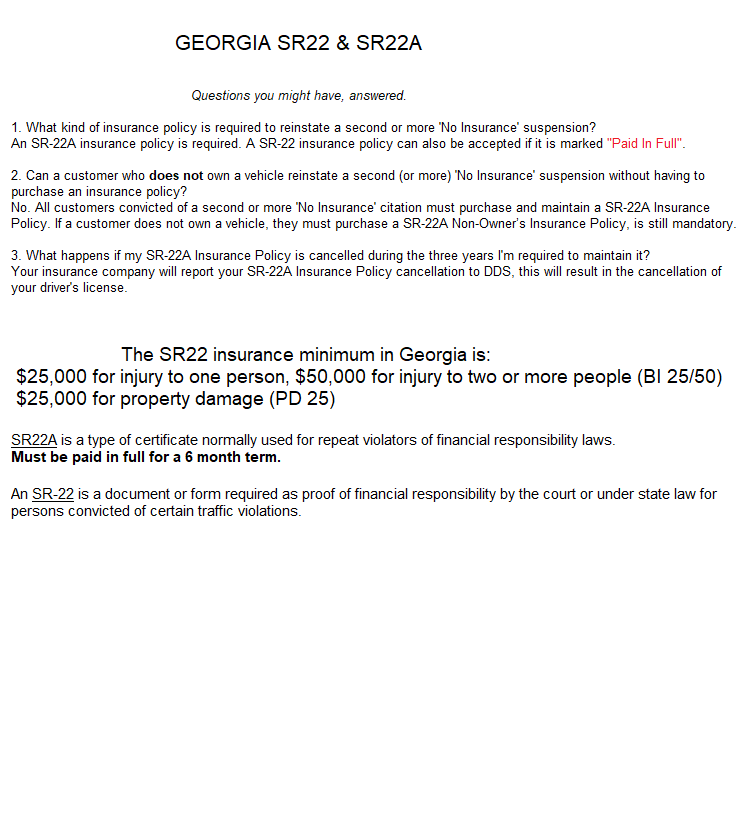 ---
FLINSCO.com will always be happy to help you get your coverage back, and direct you to the right resources and parties to take care of you and your vehicle.
Recovering from criminal penalties means nuanced processes to follow, and following them closely. We'll set you up with a good policy and walk you through getting insured again. We want to help, not treat you like an outlaw.