Bristol West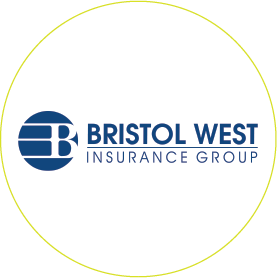 FLINSCO.com: Florida & Georgia Quotes. Sales. Service.
Local: 954.519.3443 • Toll Free: 888.307.1907 
Email: info@flinsco.com
FLINSCO.com is your Bristol West auto insurance agent.
Get a fast, free car insurance quote from Bristol West now!
Company Overview
Bristol West Insurance Group began as a private passenger car insurance company in 1973. Based in Davie, Florida, the carrier later expanded into additional states in order to reach more customers nationwide.
At this time, Bristol West insurance plans are offered in 42 states and sold through insurance agents like FLINSCO.com.
Bristol West is a member of the Farmers Insurance Groups of Companies, one of the largest property and casualty insurers in the United States. The carrier insures over 10 million households with more than 19 million individual policies across the country.
Including the team at FLINSCO.com, Bristol West has more than 48,000 independent and exclusive licensed sales agents nationwide, and 20,000 employees.
Agents and brokers recommend Bristol West as a provider of high-quality, convenient services to clients through innovative products. They offer a variety of up-to-date systems to assist customers and agents alike with payments, claims, eSignature for new policy documents, SMS notifications, and paperless billing.
Bristol West Insurance Group is rated A- (Excellent) by A.M. Best for financial strength. This rating is given mostly as a result of the company being owned by Farmers, and backed by the security of its parent company.
---
Important Customer Information
Service Your Auto Insurance Policy Online
Register Your Bristol West Policy Online
Contact Bristol West
Phone Numbers
Customer Service Phone: 888.888.0080
Customer Service Fax: 888.888.0070
Claims Phone: 800.274.7865
Claims Fax: 855.822.3139
Mailing Addresses
Claims
Bristol West Claims Service
PO Box 258806
Oklahoma City, OK 73125-8806
General Mail
Bristol West Insurance Group
PO Box 31029
Independence, OH 44131-0029
Overnight (Other than payments)
Bristol West Insurance Group
Rockside Center III
5990 West Creek Road
Independence, OH 44131
---
Pay by Phone: 888.888.0080
Pay through your FLINSCO.com Agent
Mail a Payment:
Bristol West Insurance Group
PO Box 371329
Pittsburgh, PA 15250-7329
Overnight Payments:
Bristol West Insurance Group
900 S Pine Island Road, Suite 600
Plantation, FL 33324