Southern Oak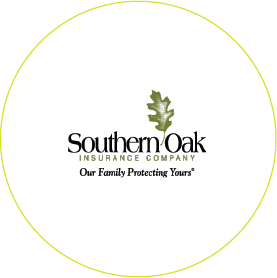 Southern Oak Insurance Company
FLINSCO.com is here to help you secure coverage at the right price.
Homeowners Insurance can be tricky. Let us find the plan you need to stay above water.
Protect your valuables, and be sure that every nail and board on your property is covered with our help.
Local: 954.703.5146 • Toll Free: 800.218.0250
Email: home@flinsco.com
Company Overview
Southern Oak Insurance Company is one of our neighbors here in South Florida. Headquartered in Sunrise with other locations in Jacksonville and Tampa, Southern Oak is ready to cover your most valuable assets. The company specializes in personal residential property coverage and is a privately held company, wholly owner and operated by Florida residents. Having a thorough understanding of the Florida Property Insurance Market, Southern Oak has more than 100 years of insurance experience.
Are you strong enough to be my plan? Southern Oak's Financial Stability Rating (FSR) says yes. Rated by A.M. Best between "A-" and "A++", Southern Oak is rated well for financial strength. They are also rated "A" or Exceptional by Demotech, and are a Better Business Bureau-accredited company.
These ratings give consumers and agents alike the peace of mind that claims will be paid without a doubt. Insurers with a Financial Stability Rating (FSR) of A hold a great degree of financial stability maintaining surplus as is most beneficial to policyholders.
Claims are processed in a reliable and timely manner, with a team of highly trained claims professionals available to facilitate each step of the way.
Southern Oak covers Florida Homeowners through a statewide network of independent agents, including FLINSCO.com. An active member of the South Florida Community, Southern Oak also contributes to local charities as a partner.
The Southern Oak team is comprised of experienced insurance industry professionals, all born and raised here in the Sunshine State. With that connection to insurance and the Florida community, the carrier is tapped into an insider's perspective, with great insight and expertise on Florida insurance industry, and how it plays out from all sides – from carrier to agent to consumer.
Powers combined, Southern Oak's executives share experience in finance, risk management, compliance, and banking, each having worked in-house at Property and Casualty Insurance carriers along their career paths.
As Southern Oaks is partnered with both the National Oceanic and Atmospheric Administration (NOAA) and the Federal Emergency management Agency (FEMA), your flood coverage and home insurance needs will be met 100 percent. Southern Oak's management staff possess a cumulative 150+ years of experience in every single area of insurance. FLINSCO.com chooses each of our carriers cautiously, and we feel confident that you can trust Southern Oak to protect your home and property.
---
Important Southern Oak Insurance Customer Information
Online Services
Contact Southern Oak Customer Service
Homeowners Department Phone: 877.900.3971
Homeowners Department Fax: 954.331.4848
Flood Insurance Phone: 800.820.3242
Flood Insurance Fax: 954.331.4848
Flood Insurance Department Email: team2@weareflood.com
Report a Claim 24/7
Report a Claim by Phone: 877.900.2280
Claims Department Fax: 813.689.5461
Addresses
Premium Payment Mailing Address
P.O. Box 45-9020
Sunrise, FL 33345-9020
Overnight Mailing Address
(Payments & Policy Documents Only)
1300 Sawgrass Corp Pkwy, Ste #300
Sunrise, FL 33323
Claims Mailing Address
Southern Oak Insurance Company Claims
P.O. Box 89239
Tampa, FL 33619
---

Call a Licensed Home Insurance Agent for Quotes at 800.218.0250.