United Property & Casualty Insurance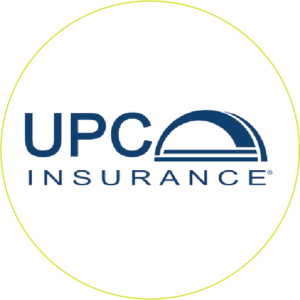 FLINSCO.com is Your All-in-One Insurance Resource.
Local: 954.519.3443 • Toll Free: 888.307.1907
Email: info@flinsco.com
FLINSCO.com is a Licensed UPC Insurance Agency.
We offer UPC insurance quotes throughout Florida and Georgia.
Company Overview
United Property and Casualty Company was founded in 1999, and is the 18th largest home insurance writer in the country. Licensed in 18 states and writing in 12, United Property and Casualty holds a Financial Stability Rating of "A" or Exceptional from Demotech.
The company has $520 million of equity capital, and has paid $3.3 billion in total claims from multiple severe hurricanes, tropical storms, and routine events. Its reinsurance program includes more than $3 billion, making UPC one of the largest reinsurers in the country.
UPC wants to make it simple for agents and policyholders alike to get covered and stay safe. Online access to customer service, claims reporting, and policy information allows customers the fast track to policy maintenance they need to keep coverage up and running.
In addition to accommodating its agents and clients, UPC stresses the importance of giving back to the community, and is a supporter of Habitat for Humanity.
With more than 20 years in business, UPC values integrity, upholds its financial stability, only sells products that we would buy for ourselves, and makes pricing affordable within reason. UPC always aims to be competitive, yet not at the price of compromised safety or ineffective claims handling.
UPC customers benefit from ease of access to policy information, with an online portal that allows you to handle billing, claims, and electronically view or print policy documents. UPC's service department offers phone assistance, with knowledgeable and friendly representatives to help you find what you're looking for or make changes.
UPC Insurance Products
Homeowners Insurance
Offering dwelling, personal property coverage, loss of use, and liability, UPC has a selection of options to help you keep your home and belongings safe. Customize your coverage to make sure all your property is protected in the event of destruction, damage, or loss.
In addition to a standard homeowners insurance plan, enhancements are available to add to your policy, including Personal Property, which will cover furniture, electronics, clothing, and any other valuable items you want to cover. Appraising items before you purchase coverage is advisable in order to know how much protection you need.
Home Systems Protection
Home Systems Protection is an available option for homeowners in Florida and Georgia. This policy covers heating, cooling, electric, and other utilities and equipment in the event of a break down. Estimated at an average of $6,000 in repair costs, having coverage for home systems is beneficial.
The Home Systems Protection Endorsement from UPC assists with covering items such as:
Chair Lifts and Elevators
Computer Equipment
Dishwashers
Laundry Washers and Dryers
Electrical Panels
Garage Doors
Heating and A/C Systems
Security Systems
Microwaves and Ovens
Water Heaters
Well Water Pumps
Surround Sound Speakers
Televisions and other entertainment gear
Pool, Spa and Exercise Equipment
Emergency Generators
Lighting and home environment monitoring
Refrigerators
Service Line Coverage
Service Line Coverage is also a wise decision if any of your underground utilities like gas, water, power, and cable go awry. This policy will help you repair or replace a part or unit when damages arise.
Service Line Coverage will also assist with excavation costs, outdoor property, expediting expenses, loss of use, and additional living costs and rental value. Especially to help you save on expenses related to maintenance and repair of outdoor sewer, water, and utilities, Service Line Coverage from UPC is vital.
UPC covers the following service lines:
Communications, Data, Internet
Drainage/Irrigation
Steam
Ground Loop (Geothermal)
Water, Well Water, Waste
Gas, Propane
Compressed Air
Electric Power
---
Important Customer Information
Service Your Insurance Policy Online
Florida Policyholder Information
Contact UPC Member Services
Phone Numbers
Claims: 888.256.3378
Customer Service: 800.295.8016
---
Pay Your UPC Premium
Pay by Phone: 800-295-8016
Mail a Payment:
Standard Payment Mailing Addresses:
UPC Insurance
P.O. Box 31588
Tampa, FL 33631-3588
Family Security Insurance Company
P.O. Box 31393
Suite 100
Tampa, FL 33631-3393
Overnight Payment Mailing Addresses:
UPC Insurance
Attn: Accounting Department
100 Paramount Dr., Suite 100
Sarasota, FL 34232
Family Security Insurance Company
Attn: Accounting Department
100 Paramount Dr., Suite 100
Sarasota, FL 34232
---
Have additional questions about UPC Insurance products?
Call FLINSCO.com
Local: 954.519.3443 • Toll Free: 888.307.1907