Peoples Trust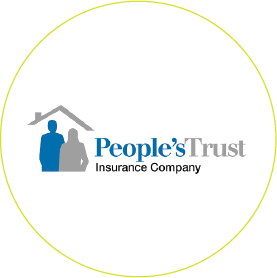 People's Trust Insurance Company
Compare Homeowners Insurance policies and quotes from the best carriers with FLINSCO.com.
Local: 954.703.5146 • Toll Free: 800.218.0250
Email: home@flinsco.com
Company Overview
People's Trust Insurance Company gives much to hope for as a homeowners insurance shopper, and FLINSCO.com has chosen them as one of our Home Insurance Companies because they do live up to their name.
Rated "A" by Demotech (step aside A.M. Best, S&P, and BBB, Demotech is the most tapped-in financial strength rater of the 2010s) for Exceptional Financial Stability, People's Trust Insurance has the financial strength to cover your home no matter what storms hit and damages arise.
Paired with ample surplus, the carrier has the security to restore property to pre-loss condition and make customers happy.
People's Trust lives up to its name by giving back to the community, and each year joins Rebuilding Together Broward to help veterans, elderly, or homeowners with disabilities find safe, affordable housing in South Florida.
Founded on ethical practices and fast, courteous customer service and claims handling, People's Trust has your back 24/7 if you should need to report a claim.
Here is a company infographic describing the Rapid Response Team's claims process: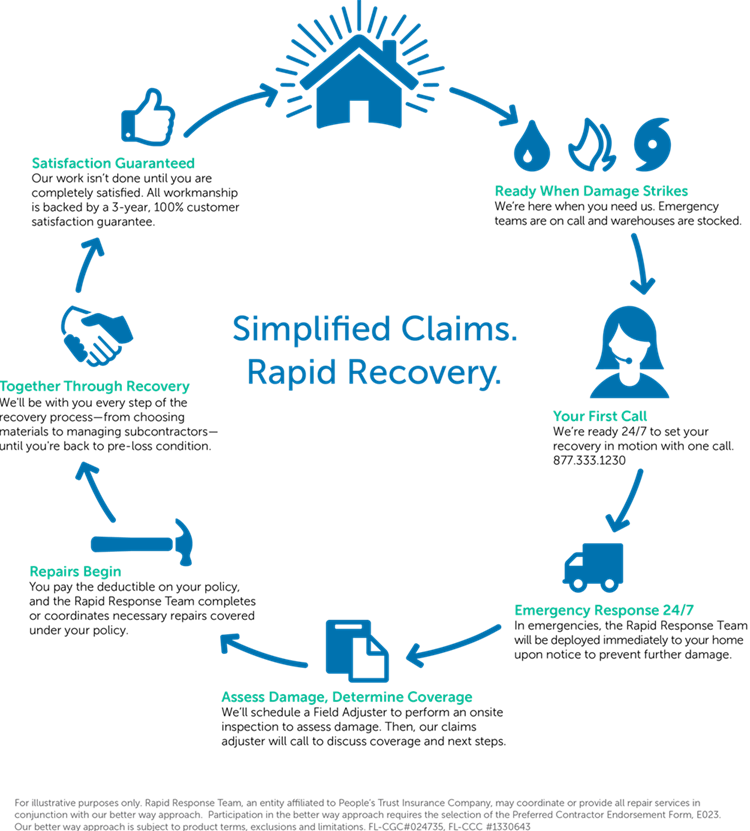 ---
With guidance from FLINSCO.com you can secure your home, valuables, and property at an affordable rate.
It's not out of reach. Just call an agent at 800.218.0250 or get quotes online and look for People's Trust.
---
Homeowners Insurance
HO3 Homeowners Policies are the most common, basic plans for securing your home.
Florida insurance plans cover dwellings and other structures such as garages, sheds, fences, or separate entrances. Your policy will help protect against perils such as fire and smoke, theft, vandalism, water damage, windstorms and hail. Flood Insurance is separate, yet incredibly important in both Florida and Georgia, and will help immensely when hurricane season runs its course.
People's Trust Insurance issues coverage to homes currently inhabited by the homeowner purchasing coverage. That may seem obvious, but there are other instances when coverage is issued to non-homeowner insureds.
Policies may also be issued to private residences currently occupied by the insured, no more than two families, no more than two boarders/roomers per family, and revocable trusts, with permission requested by the insured homeowner.
People's Trust Insurance plans are offered for your personal property at Actual Cash Value. Lost or damaged property will be replaced by the carrier at Actual Cash Value, or the depreciated value at the time of your loss.
For a higher premium rate, Replacement Cost Coverage is also available. This policy allows you to be reimbursed for personal property replacement costs as of today, without factoring in depreciation.
Additional Living Costs
People's Trust offers insurance to help you find a place to stay if your home is ever unfit to live in. The insurer will cover affordable living accommodations while your home is being repaired, subject to policy limits.
Valuables Coverage
Cover your fine art, jewelry, collectibles, or other valuables that you have invested in and would shed a tear to live without. People's Trust has specialized policy options for homeowners with items from vintage guitars to the bronze David replica next to the water features cascading over your Porsche's parking spot. If you are one of those people, it's kind of a joke, but we know you're right down A1A shaking in your flip flops over the thought of lightning striking that masterpiece.
---
Important People's Trust Insurance Customer Information
Contact People's Trust Customer Service
Email: csr@peoplestrustinsurance.com
Customer Service Phone: 800.500.1818
Monday – Thursday 9:00am – 6:00pm EST
Friday 9:00am – 5:00pm EST
Fax: 561.988.9178
Corporate Office Address:
People's Trust Insurance Company
18 People's Trust Way
Deerfield Beach, Florida, 33441-6270
Report a Claim 24/7
Report a Claim by Phone: 877.333.1230


Contact Our Homeowners Team at 800.218.0250 for a custom, complementary home insurance quote.
Find what you need fast.
Move forth with your coverage and one less thing to worry about!