Travelers Insurance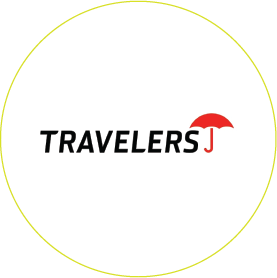 FLINSCO.com is Your All-in-One Insurance Resource.
Local: 954.519.3443 • Toll Free: 888.307.1907 
Email: info@flinsco.com
FLINSCO.com is a Licensed Travelers Insurance Agency.
We offer auto insurance quotes from Travelers throughout Florida.
Company Overview
Travelers Insurance is a presence in the property casualty industry, offering excellent quality auto, home, and business insurance products for more than 160 years. Dating back to April 1, 1864 in Hartford, Connecticut, Travelers was established by businessman James G. Batterson and banker James E. Bolter.
The two started chatting in the post office about Batterson's work to form an accident insurance company in the United States. Batterson became the president of Travelers until his death in 1901.
The Travelers website makes note of a famous joke exchanged between the two about how much it would cost to insure Bolter's walk home. Batterson said, "two cents". Internally at Travelers Insurance, the "two-cent premium" is a cornerstone of corporate culture and history.
Fire insurance was the next step in the Travelers Insurance company journey. The St. Paul Fire and Marine Insurance Company was established in St. Paul, Minnesota in 1855 to address the increasing threat of fire. In 1968, St. Paul Fire and Marine Insurance Company formed the St. Paul Companies, Inc.
In 2004, Travelers and St. Paul merged to form The St. Paul Travelers Companies, Inc., which is one of the largest finance, property and casualty insurance firms. The firm simplified in 2007, changing names to The Travelers Companies, Inc.
Travelers is a Fortune 500 Company with accolades from various organizations, including:
FTSE4Good Index Series, 2001-2018
North America Index Component, Dow Jones Sustainability Index, 2007-2018
World's Most Admired Company, Fortune, 2006-2018
America's Most JUST Companies list, JUST Capital and Forbes, 2019
Barron's 500, Barron's, 2008-2017
Largest U.S. Workers Compensation and Commercial Auto Carrier, NAIC, 2014-2017
Best for Vets, Military Times, 2010-2011, 2014-2018
Military Times Best for VETS Index, 2017-2019
Top Veteran-Friendly Company, U.S. Veterans Magazine, 2014 and 2017
America's Best Employers, Forbes, 2015-2018
America's Best Employers for Diversity, Forbes, 2019
America's Best Employers for Women, Forbes, 2019
Best Place to Work for LGBTQ Equality, Human Rights Campaign Foundation, 2016-2019
Best Place to Work for Disability Inclusion, Disability:IN and American Association of People with Disabilities, 2018
Travelers also is actively involved in sponsoring the Travelers Championship, a stop on the PGA Tour funded entirely by the insurer. Since Travelers took over as the chief sponsor, the tournament has generated upwards of $20 million for over 750 local charities. TravelersChampionship.com is the official website where you can find out more about this project, event and charity.
---
Important Customer Information
Service Your Auto Insurance Policy Online
Register Your Travelers Policy Online
Report & Manage a Claim Online
Contact Member Services
Phone Numbers
Claims: 800.252.4633
Customer Service: 800.842.5075
Roadside Assistance: 800.252.4633 opt. 3
Mailing Address
Personal Lines Payment Address:
Travelers Personal Insurance
PO BOX 660307
Dallas, TX 75266-0307
Commercial Insurance Payments:
Travelers CL Remittance Center
PO BOX 660317
Dallas, TX 75266-0317
Investor Relations:
Travelers Attn: Shareholder Services
One Tower Square
Hartford, CT 06183
Consumer Affairs (Complaints):
Travelers Attn: Consumer Affairs
One Tower Square
Hartford, CT 06183
---
Pay Your Travelers Premium
Pay by Phone: 
Pay through your FLINSCO.com Travelers Agent
Mail a Payment:
Travelers Personal Insurance
PO BOX 660307
Dallas, TX 75266-0307
---
Have additional questions about Travelers Auto Insurance products?
Call FLINSCO.com!